5 Reasons That Make 'Content' The Most Important Part of a Digital Marketing Strategy!

5 Reason Why Content Is The Most Important Part of a Digital Marketing Strategy!
Digital marketing has many facets like social media, SEO, SEM, etc., but amidst this, content is the king. Any element is it graphic, video or textual, that you come across on a website is content. Content makes a website worthwhile and urges the consumer to explore it. Content is truly the key to a successful digital marketing strategy because it is affordable, easy to create and yields a result that gives long-term benefits. However, content works in many ways and there is a reason it is implemented, so let's explore some of them.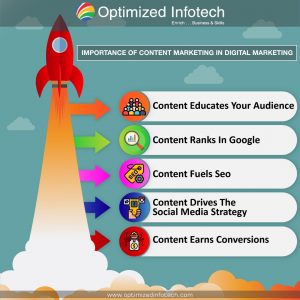 Imparts Education
If you want to give away crucial information about your industry and business, then it can be handled by content. Content is not limited to giving information but it is an amazing way to help your consumer take the right decision. For example – uploading FAQs (frequently asked questions) on a website helps in dismissing confusion of the consumer, thus helping him/her decide. In a way, educating the consumer about the product and business.
      Top Ranking on Google
We all are aware that Google is the widely used search engine across the globe. Google adores keyword-based articles and blogs, that boast quality content. The more quality content you post, it gets better and better in Google ranking, thus pulling the immense crowd to your website. Also, if you target the right audience, mobile optimizes, produce mistake-free and plagiarised free content, then it will definitely get the top ranking in Google.
      Helps For SEO
Content and SEO literally complement each other. If you want organic search traffic to your website, then it's imperative to have your SEO strategy in place. However, SEO is all about keywords, website visitors, backlinks, etc., and these factors can be perfected only by quality content. If you don't have content then there'll be no piece of information for your visitors to read and assimilate.
      Boon for Social Media Strategy
No matter how small or big your business might be, it is imperative to mark its presence on social media. Social media is the path that directly allows you to converse with your visitor. However, to keep your social media interactions, it needs the fuelling of quality content in the form of posts, videos, web links, etc., because it urges your visitor to like and comment, making the conversations deeper. Thus, with content you get visitors and your handle becomes interactive.
      Helps in Conversions
The primary goal of content is to draw new visitors and when these visitors take a specific action, then it is tagged as 'conversion'. These conversions are the medium that helps in expanding your business and in this case, call-to-actions (CTA) are a blessing. But if CTAs have apt content then they become the best medium to guide your visitor to take further action.       
So, hereby we have mentioned some of the important reasons why content is the hero in a Digital Marketing Strategy. But if you have some inputs about content creation and likewise have implemented in your strategy, then do let us know in comments!