Powerful Ways To Convert Website Traffic Into Lead

POWERFUL WAYS TO CONVERT WEBSITE TRAFFIC INTO LEAD
Drawing traffic to your website is not enough because along with traffic, a business need leads to flourish. And once you get leads, furthermore communication is undertaken with email marketing or follow-up calls. But first step is to draw traffic and interestingly, it can be undertaken in several ways. So, hereby listing some of the best and prolific mediums for lead conversion.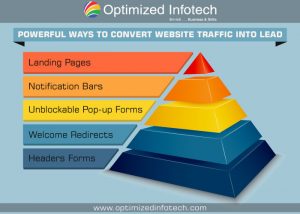 1. Landing Pages
Landing pages are considered as one of the most fruitful mediums. While your website pages provide information, landing pages play a vital role in gathering contact information. Moreover, you can have an array of landing pages and if they are incorporated in blog then there are chances to get located by search engines. Landing pages are designed using plugins and themes, making it more enticing for the leads.
2. Notification bars
Whenever we visit any website, the first part that catches our eye is the top-most section which is called a notification bar. This bar primarily displays warning, message, alert making it irresistible to miss. These bars are a great medium to keep your user glued to your website. Moreover, some of these bars can be configured to stick to the top despite user scrolling the web page.  
3. Unblockable popup forms
Unblockable popup forms are a great medium for maximum conversions. Imagine a user visits your website and a popup displays ongoing offers, then surely your user is going to browse more. However, for this strategy to work, you must come up with an alluring marketing copy, quirky images, apt branding and a precise call-to-action to guide the user furthermore.  
4. Welcome redirects
Free goodies like trial version, eBook, free consultation are biggest game changers to entice your users. And if you are looking for a medium, then welcome redirect is your solution. However, welcome redirects are so configured that they can be availed by new users and not to the returning ones. But they still have ability to convert leads because they are designed considering the user experience.  These welcome redirects can be used for a brief time till the leads are improvised and eventually can be altered.
5. Headers Forms
Header can never go unnoticed in any website because it is the first thing that encourages the user to explore further. Header is a prized piece wherein you display your logo, tabs, important notice, thus adding to your USP. Amidst this, opt-in forms play a crucial role in conversion and if you have such header opt-in forms then you'll surely get leads. With this, they'll be a reassurance for the users to stay connected with your website. Besides, there are few themes like Generate by Studio Press, that boasts a header opt-in form.   
Converting traffic into leads is definitely a hurricane task. But with a subtle design, easy navigation, and above-mentioned points, you can definitely draw traffic to your website.