Why Choose Digital Marketing As A Career?

Why Choose Digital Marketing as A Career?
Looking at the popularity of the internet, it is evident that digital marketing is imperative for every business. Digital marketing has literally opened new horizons on career front because the demand for digital skill sets is expanding. Thus, making a career in digital marketing is productive and lucrative. Want to know how?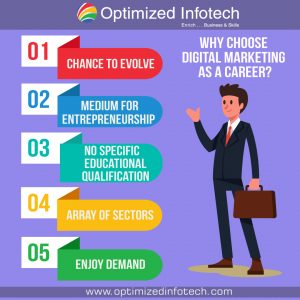 1. Chance to Evolve
New trends always pave the way in the world of digital marketing. Thus, making it extremely fruitful for the candidates because they constantly get a chance to evolve themselves. With each passing day, digital marketers get a chance to learn new technologies and methodologies. Interestingly, their pool of knowledge never goes unnoticed and helps them grow.
2. Medium for Entrepreneurship
Digital marketing gives a great opportunity for candidates who wish to venture into business. There are many companies who have a range of product and service but have no official knowledge to market them. And that's when digital marketing comes handy to help businesses to embrace the online world. Apart from job opportunities, you can also start off as an entrepreneur. And if you enroll in digital marketing classes in Pune, then you will get the confidence to evaluate the needs of the prospects.
3. No Specific Educational Qualification
While pursuing a career in digital marketing, it isn't necessary to boast a specific educational qualification. But one thing is imperative – that you must have immense passion and sincerity to embark on this career. Also, to turn this business more productive, you don't have to start it from scratch but need passion to turn it fruitful. And with digital marketing courses in Pune, you will get that necessary jumpstart to ride high in this business.
4. Array of Sectors
Digital marketing has an array of segments under one roof. There's SEO, social media marketing, content marketing, etc., which one can choose as per his/her liking. Furthermore, the candidate can also play various roles like a content marketer, SEO expert, mobile expert, etc. With this, your growth never gets stunted and you can always try hands on a new venture. Once you determine your strength it becomes easier to scale high.
5. Enjoy Demand
Definitely, every company in every sector needs a digital marketer and thus, they enjoy an immense demand from all corners. Most importantly, there is no dearth of opportunities and eventually, the demand exceeds, thus opening new avenues for wannabe marketers. In fact, digital marketing is a great opportunity to future-proof your career in the world of uncertainty.
Digital marketing is definitely a fast-paced career choice and its necessary to cope up at every point of time. And for that it is important to be creative, innovative, analytical, urge for problem-solving and hardworking. If you think you have these qualities then you can become a great digital marketer. Interestingly, we at Optimized Infotech will help you shape your dream into reality. With decade-long experience, we have managed to groom many industry experts who now work as our guest lecturer to impart important lessons on digital marketing!