Digital Marketing Courses in Hadapsar
Do you have your own business and want to learn Digital Marketing for business growth or are you a student and want to explore a new form of conventional marketing, be it for any reason on your part, we have a holistically designed practical-based Digital Marketing course in Hadapsar at your disposal.
Our digital marketing course allows you to explore the colorful world of social media and use it to your benefit by generating business contacts, promoting your products and services, connecting with your users, and nurturing long-term relations with your customers. But Digital Marketing has limitless possibilities other than just social media. Digital Marketing has SEO as its major component and social media forms a part of it. SEO means Search Engine Optimization and covers On-page and Off-page activities where On-page is to be done on your web pages and off-page activities are done to increase your site's ranking on search engine result pages. Also, Email marketing, affiliate marketing, and Influencer marketing form part of the talk about digital marketing.
In a nutshell, learning the essential skills of Digital Marketing can bring a whole lot of exciting shifts in your existing career or can pave the way to multiple Digital Marketing opportunities.
Optimized Infotech: The Ultimate training provider
Optimized Infotech has been imparting Digital Marketing training for a quite substantial time. At Optimized Infotech, we keep a very practical and detail-oriented approach in our teaching, and it is reflected in many of our students who have gained a thorough knowledge of various aspects of Digital Marketing and have been successfully employed by many good companies in and around Pune.
The secret of this success lies in the fact that we have very experienced and quality-oriented teachers and live projects of actual companies for students to get hands-on experience in understanding the actual working of Digital Marketing.
Our Digital Marketing course in Hadapsar is a constantly evolving learning experience as we believe in the overall development of our students that instills confidence and makes them market ready to take on the future.
At Optimized Infotech, we support students throughout their association with us and beyond. We have dedicated placement coordination which ensures that all the students get a maximum number of companies to apply through. Even after the placement is done, we at Optimized Infotech are always available to help our students resolve their work-related queries making us quite popular among them.
So, what are you waiting for? Grab your phone and connect with our coordinator today!
What does our Digital Marketing course do for you?
The course has been designed to enhance your skill sets and your professional life both.

Our course allows you to go beyond your existing network and industries and explore new opportunities through advanced learning.
If you are stuck in your current career, this course is your best option to learn and switch to newer options to get career growth.
This course makes you skillful in Digital Marketing in just a short span of 3 months.
You can do this course online as well as offline with, online students getting the recorded lectures post each session to keep with them.
One of the best and most well-experienced faculties with a state-of-the-art interior that amplifies students' learning experience.
Who should enroll for this course:
Candidates who are interested in learning something new and developing advanced marketing skill sets.
Candidates who are looking for unlimited opportunities and extensive career growth.
Candidates who are looking for supporting their existing education with some additional course that can increase their market value as a fresher.
Students who want to showcase their creative skills or get a platform for acquiring these skills.
Students who are pursuing graduation or post-graduation from any stream.
Working professionals who want to pursue their interests or make an addition to their existing knowledge for better opportunities.
Housewives who want to kick start their career with an advanced marketing course.
Digital marketing courses offered by Optimized Infotech:
Digital Marketing Master Course: A comprehensive course covering all aspects of digital marketing, taking around 45 to 60 days to complete.
Search Engine Optimization (SEO) Course: A course focusing on the fundamentals of SEO, taking around 20 days to complete.
Pay-Per-Click (PPC) Course: A course focusing on the fundamentals of PPC advertising, taking around 20 days to complete.
Social Media Marketing (SMM) Course: A course focusing on the fundamentals of social media marketing, taking around 20 days to complete.
Email Marketing Course: A course focusing on the fundamentals of email marketing, taking around 10 days to complete.
Advantages of doing our course:
Boost your career and earning potential.
No disruption to your professional life with our easy-to-understand convenient course.
An opportunity for educational advancement.
Thorough understanding of concepts through theoretical and practical learning.
Power-packed course with short duration and 100% placement assistance.
Flexibility of doing the course from any corner of India and beyond through both online and offline modes of learning.
Google Adwords Certified Professionals
Optimized Infotech offers industry-recognized certification in digital marketing upon completion of their courses.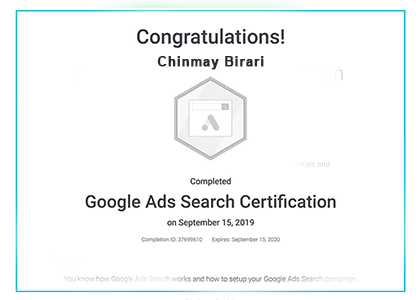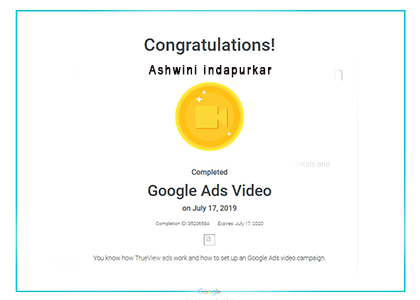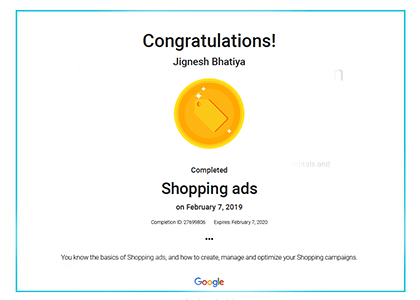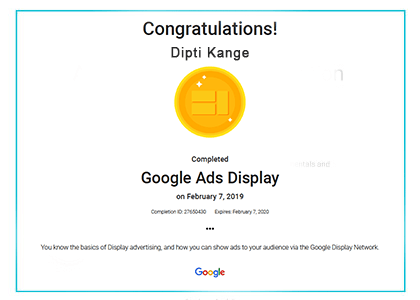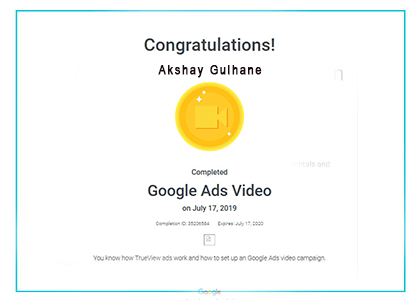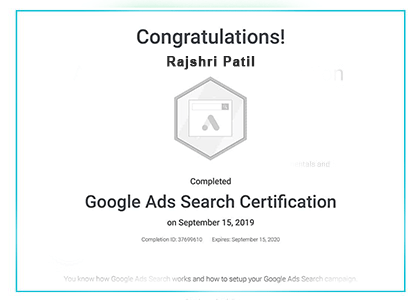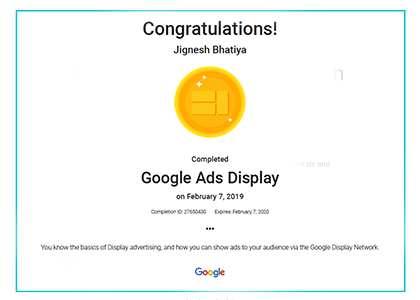 Weekday's Batches ( Mon-Fri )
| Sessions | Kothrud | Wakad | ShivajiNagar | Hadapsar | Chinchwad |
| --- | --- | --- | --- | --- | --- |
| Morning | 08:00 AM, 09:00 AM, 10:00 AM | 08:00 AM, 09:00 AM, 11:00 AM | 10:00 AM | 09:30 AM | 10:00 AM |
| Afternoon | 12:00 PM , 02:00 PM | 04:00 PM | 04:00 PM | 04:00 PM | 02:00 PM |
| Evening | 05:00 PM | 06:00 PM | – | – | 07:00 PM |
Weekend Batches ( Sat-Sun)
| Sessions | Kothrud | Wakad | ShivajiNagar | Hadapsar | Chinchwad |
| --- | --- | --- | --- | --- | --- |
| Morning | 09:00 AM, 11:00 AM | 10:00 AM | 10:00 AM | 10:00 AM | 10:00 AM |
| Afternoon | 02:00 PM | 02:00 PM, 04:00 PM | 04:00 PM | 02:00 PM | 02:00 PM |
| Evening | 06:00 PM | 06:00 PM | 06:00 PM | 06:00 PM | 06:00 PM |
★★★★★
"Best Institute for learning Digital Marketing staff is very cooprative to solve our doubts Best part is you have to perform all practicals in front of trainer so even you have any difficulty it gets cleared easily."
★★★★★
"Best Classroom to learn Digital Marketin Coursewith 100% practical During lockdown they conducted online Digital Marketing Courses it is my great experince to learn from online also with practical in front of faculty staff is very supportive ."
★★★★★
"It was a very nice journey with Training Insitute in Pune. The training experience was very good. Had a nice time with my batch."
★★★★★
"Training Institute in Pune is best institute i have ever seen Which provided us 100% practical knowledge.Staff is so supportive at every moment.Had really good experience with Training Insitute in Pune and our trainer."
★★★★★
"Great experience of classroom study after years, with a good blend of practical and theoretical step by step learning this Digital Marketing Course through Training Institute Pune. Excellent faculty support with clear explanation with relevant real-life examples helped in understanding Digital Marketing program easily. Looking forward to using the learning to optimum."
★★★★★
"I underwent Digital Marketing Training in Pune at TIP. My Trainers (Atul Sir and Chaitali Mam) were very helpful and interactive in Taking classes. The Digital Marketing course from this Institute helped me in making me understand the digital scenario of the market that is booming in the current trend that helped me in boosting my career in this field!"
★★★★★
"Training Institute Pune has the most exhaustive digital marketing syllabus, with an exposure to practical implementation and learning. The study material is elaborate and the language is easy to understand for beginners like me. Throughout the course we had access to real-time google analytics structure, adwords, webmaster tool data which helped me to understand the real data. The trainers are highly experienced who have been working in the industry since a long time. They are friendly and approachable. The institute also provides 100% job assistance."
★★★★★
"The new period of digital Marketing has made it more accountable & respectable. Hence after completing my Engineering in Information Technology, I wanted to gain in-depth knowledge of this domain. Digital Marketing Training in Pune from TIP has helped me understand the nuances of Digital Marketing by providing the practical knowledge of SEO, Google Ads, etc. Don't think twice before coming to this place."
★★★★★
"Hi People, it was a great platform for me to sharpen my Digital marketing skills & personal skills. It is the Best Digital Marketing Training Institute for Digital Marketing course in Pune with well-experienced teachers. You will gain a lot of confidence while you are leaving this institute as a Professional. Highly recommended for anyone !!"
★★★★★
"It has been a great learning experience with Training Institute Pune. Faculties are very good. Flexible Classes timings and I have got good guidance from the industry experts. I feel proud to be a student of Training Institute Pune(TIP). I will always recommend everyone to join TIP for Best Digital Marketing Course in Pune."
★★★★★
"Hi, I am Reena, MBA Graduate. After finishing my graduation, I have joined in TIP for Digital Marketing course in Pune. It was the best place to learn and industry related curriculum has really taught me a lot. From zero knowledge in this field, I was able to gain more exposure to online marketing concepts. Thank you, TIP."
★★★★★
"I am basically a diploma graduate and did not have a basic understanding of the internet and its concepts. But through my friend I came to know about Digital Marketing Academy and now I am really happy to say that I got offers from many companies for the position of Inbound marketer! I will recommend it definitely."